So, Deity Quest has been out for a little over a week, and it's been a bit of a slow start. We've had some sales and press, but it's definitely been a lot slower than I had hoped. Part of that was because this was my first commercial game release, and I made some mistakes with the launch (like not giving storefronts enough time to approve Deity Quest before release). But, things are just getting started - we're getting new press articles and are scheduled to release on Desura tomorrow. It's been a rough road, but now we're finally almost launched on all our storefronts. You can already buy Deity Quest on Desura using this widget:
Hopefully, as Deity Quest continues to get in the hands of players and they (hopefully) enjoy the game, word of Deity Quest will spread and we'll do a little better. However, as we start to run out of funds, and I calculate what kind of sales we'd need to stay afloat, I can't help but get a little depressed. For a first release, I should be happy for the sales and positive feedback I've already gotten and am still likely to get, but I've also finally realized that even a good number of sales isn't enough to live off of, and that I'll likely never make enough on games to make Fancy Fish Games my full time job (a dream I've had for a while now). Perhaps it would be possible if I made different kinds of games, or simple games like match 3, but I'm not willing to compromise there - if I'm not making what I want, then it's truly a job and I'd be better off working elsewhere where I'd make a lot more for my efforts.
So where does that leave Fancy Fish Games? A part-time job that doesn't bring in much money? A hobby which is subsidized by a full time job? Honestly, I don't know - the only thing I know for certain is that I'm going to finish the projects I've already started - as it'd leave a bad taste if I quit halfway. This means yes, I'm going to finish Havencall and the new space game (Codename: Pioneer). I may even make I Can't Escape: Darkness, even though I've only written a design document for it so far. But all my other great ideas? Especially These Falling Stars which I've been mulling over for years but have never had the resources to really start? Honestly, I don't know. Maybe if I get lucky, or if I save up enough from a full time job, I'll consider doing Fancy Fish Games full time in the future.
As for Havencall, we're planning to release late this year, and are working hard to complete the first world in time to submit it to the late submission deadline of IndieCade. We've been working on Havencall for a while now, and we've both improved a lot - as you can easily see from Natalie's art:
Havencall may be one of our last games, which is pretty sad, but we're going to do it right, not cutting any corners. Even if game development has to take a back seat for me in the future, I want to be able to look back on what I accomplished with pride.
On my side of Havencall, I've been setting up the scenes (the hometown and space time ruins are almost done), and adding in the UI and Dialogue systems. Havencall is definitely more of an artist's game than a programmer's game, but there's still plenty to do - especially with some features like the boss battles. I've also been working on tools that make integrating art and setting up scenes a lot easier - so that will speed up production of the second and third worlds.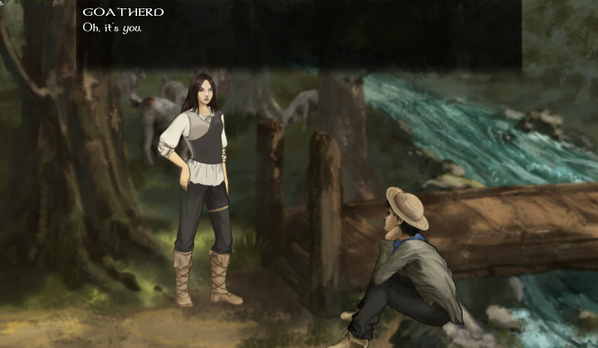 Well, we'll see how things turn out - and I doubt I'm going to stop making games, although I may slow down or work on smaller games if I end up with less time for game development. While this is kind of sad - I'm happy with the games I was able to create. If Fancy Fish fails, it's not due to lack of quality, it's just that it's so hard to get noticed and succeed in today's world.
As a side note, I am now considering doing freelance work for game development. While I'm not sure I'll be able to make enough as a freelancer, I'm certainly open to offers if you like my work. And, at the end of the day, I'd prefer working on games than something else, even if the pay is less, as long as it's livable.